Inner – Outer travels – Newsletter March 2018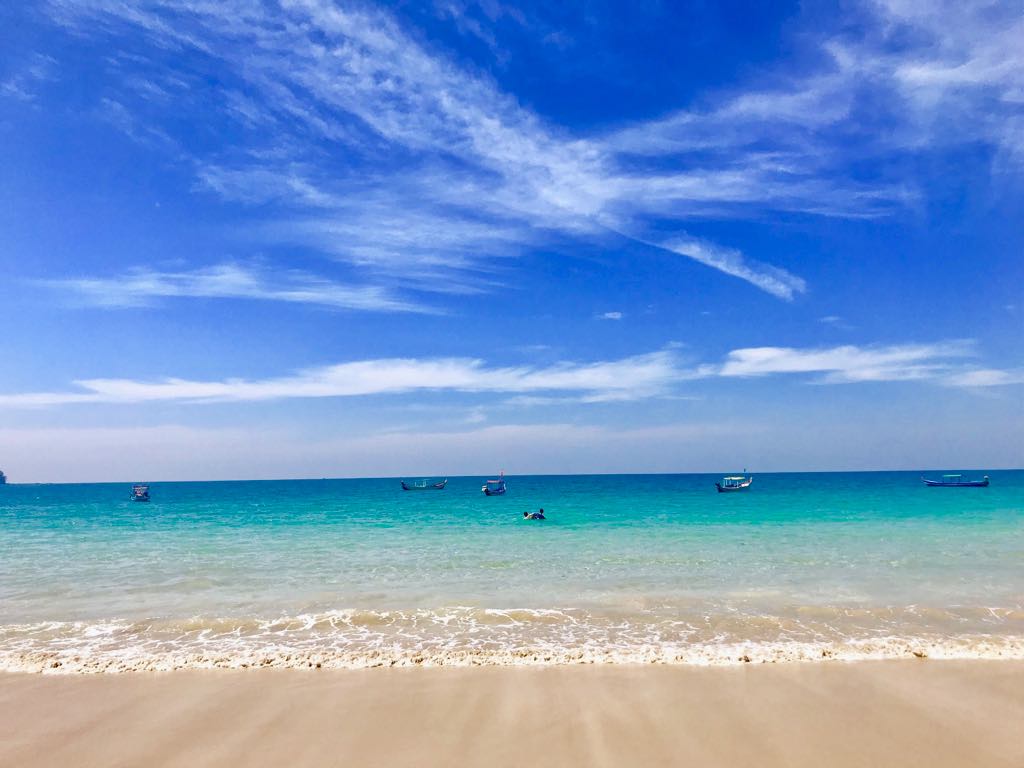 (This Newsletter is posted here about a week after we send it out. If you would like to have it firsthand, please subscribe to it below).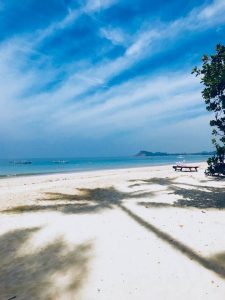 The waves hit the empty beach. The palms wade in the wind. The sky is sapphire blue and the water turquoise. We are on a remote paradise beach in Burma, one of the most beautiful beaches Mats and I have been to. It's almost unreal perfect here. Like being in a Photoshopped postcard.
The place we stay at is a true dream of a westerner. A real perfectionist. He has created a remote eco paradise. There is neither a pool nor umbrellas, nor plastic sun beds or umbrella drinks. Instead, we relax in the hammocks, the comfortable linen mattresses on the beach or simply directly onto the white sand with the coco palms as sun protection.
We stay in traditionally built bamboo bungalows which despite their simplicity feel stylishly luxurious. It's all those tasteful details that makes it. Had I still written interior design articles, one would come from here.
There is a small village nearby. All employees come from here and have good wages and conditions. Everything is built with recycled wood, sustainable, local building materials and manual techniques. The place let natural beauty reveal itself unobstructed and they share the cool and cosy logic of natural living as if staying in the village.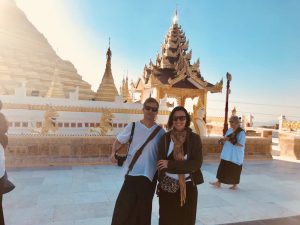 TO CULTIVATE LOVE… METTA BHAVANA
Our three months traveling have soon come to an end. It was a transforming trip for both me and Mats. The first four weeks at the Meditation Center at Sayadaw U Tejaniyas were amazing.
The two weeks at the Metta Retreat with Sayadaw U Indaka, Ven. Viranani and AriyaNani were very different and new to us. It was the first time we did a so called pure Metta retreat. It differs greatly from a vipassana retreat. The retreat was at a meditation center in northern Burma. The view was magnificent over green fields and mountain peaks. The temperature was like Swedish summer, about 25C degrees during the day and maybe 10C at night. Fresh and crispy air.
The instructions for Metta meditation is to repeat short phrases of goodwill to both your self and different persons. I chose "May you be happy, well and peaceful". It's an in-depth psychological process because the different people you think and wish metta for of are, of course, waking up memories, associations that you process in a non-cognitive way. With compassion and understanding. Simply with the heart. You are encouraged to repeat the phrase's non stop during the days. From the time you wake up to the time you go to sleep. You always do it all the time, when you walk, stand up, wash, sit in meditation, practice walking meditation, when you eat, yes, all the time. Non stop.
It was especially interesting to recite this when I did ashtanga and Yin yoga. Easier during the yinyoga of course, but it also went well in the ashtanga. Instead of counting the breaths, I recited the sentences. Try it yourself!
Here you can try this guided Yin yoga sequence I filmed at Purple Valley in Goa last year.
I wrote down my experiences every day. One of the days anxiety and worry came over me. Here's what I wrote:
"I just sat there and instead turned my attention to the silence, opened the mind completely. The worries began to seize. Everything became very quiet, calm. I could see that also this belonged to life it self. Then I went up and did walking meditation … Just outside the hall there is a terrace, it has a great view over fields, over this forest path, the golden-shimmering pagoda, and the mountain peaks in the back and small clouds on the clear blue sky. The wind popped in the trees – that sound is so pleasant to me, reminds me when I was a child in Sopot (Poland) and the wind blew in the Chestnut trees outside our house. The sun warmed my shoulders, and the bare feet massaged the thin stone floor that cooled back. I just walked, and walked, just aware of the moment, moment after moment. Now after now … "May you be happy, well and peaceful … may you be happy, well and peaceful .. For all infinity."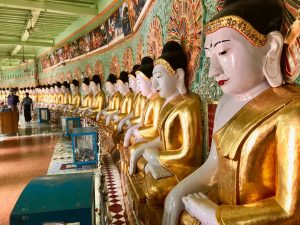 IS IT OK TO TRAVEL TO BURMA?
We have received two questions from Sweden during our trip to Burma: "Are you not afraid to travel to Burma, I've heard that it's dangerous there?" And the other has been: "How can you travel to a country where Rohingyas are treated in such a bad way?"
I´ve written a long blog in Swedish where I answer these questions. I haven't yet translated it to English. But shortly; No, Burma is one of the safest countries in the world to travel to. We met many different travelers (some of were single girls traveling on their own) and they all said that they have never felt this safe.
And the other question;
We have two main reasons to travel to Burma. One is that our teacher Sayadaw U Tejaniya is here and we come to practice meditation with him. The other is that we collect money every year to donate to the small organisation Metta In Action.
This year we wanted to see some of the country as well.
And, yes, the situation with the Rohingyas is awful. And as always – the ones who suffer are the poorest. So, to avoid supporting the military we choose to stay in small family owned guesthouses, eat in family run restaurants and avoid big resorts and chains.


TAKING IT EASY
We are also looking forward to completing our next book project on Yin yoga. The idea was to do it after the retreats, during the trip, now that we are on a beach and have nothing else to do. Well, it hasn't been that easy with our discipline…In fact, we relaxed, not doing much. Contemplated, meditated and practiced yoga. I have written some Newsletters and some blog, and Mats has done some admin now and then, at least when the Internet connection was OK (and that was rare!). Both me and Mats have discovered new dimensions that can be used in meditation and yinyogan, both in teaching and practice.
JOIN ME AND FREDDIE MEADOWS TO COSTA RICA!
I have been invited to teach Yin yoga on a truly luxurious retreat in Costa Rica with the surf celebrity Freddie Meadows (May 4-13, 2018 – Only a few places left!). Freddie contacted me and told me he practices Yin yoga to my app almost daily and that has helped him a lot with his surfing. He is very interested in meditation and yoga.
And, don't you know who he is? One of the world's best surfers (nr one in Sweden!). This trip is very exclusive, with a "celebrity" chef Frida Runge (many celebrities here, haha!) who will cook great food, we stay in luxury bungalows right on the beach in Santa Teresa, Costa Rica. In the morning there are surf lessons with Freddie or Yin yoga with me, and the same thing in the evening before sunset. Do you want to know more? Read more on Freddie's website and contact him to sign up. All teaching will be in English.
NOTE! I do not know any details, prices etc, so it's Freddie you should contact regarding your any questions.
Now I'll take a break from the writing and jump into the ocean. Right now, it is crystal clear, you know so clear that you can really look far below the surface. I wish my mind was like this all the time.. Soon, soon we'll be home in the cold. And I have to say that it feels quite lovely. It is at home, with our loved ones, with everyday stress, dullness and the cold, and the often mundane feelings of everyday life that the results of all meditating will show.
All the best from us, May you be Happy, Well and Peaceful!
Magdalena and Mats